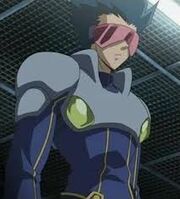 Hello All,
I am TechGenusMaster (talk), also known as Vizor. As my name implies, I am a T.G. Master.
I duel with at least 4 forms of T.G.s, and currently is looking for the perfect TG recipe.
I will post my decks as I make and write them, and welcome all feedback.
"Limiter Removal, Level Ten! Main Bus Booster Control! All Clear! Infinite Power, Here Release itself and Beyond the Dimension! Go! Accel Synchro! Come On! Tech Genus Blade Gunner!"
I am the lord of this forum, and am second to none. I also hold weekily tournaments on this Wiki/Forum. For the times, see here.
I am quite strict on the material that goes on this Wiki, and will automatically delete anything unrelated to Yu-gi-oh /ban the account that posted it for a month. This is true, unless you have my permission. An example would be that we will have a Pokemon section here soon.
We are a growing Wiki, so come on! 
Happy Editing!
TechGenusMaster (talk) 01:36, November 1, 2012 (UTC)